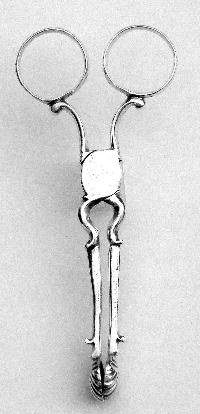 It is my intention to illustrate examples of Provincial made Tea Tongs on this page.

There will be only a very few examples as Provincial tongs are extremely rare and only a small number have been recorded.

To start off, I display here two pairs of Tea Tongs made in NEWCASTLE and marked for

William Partis.

This first pair is, stylistically, a transitional pair of tongs retaining some features of baluster tongs yet having a hint of the later curves.