Since the beginning of 2005, I have been monitoring sales of Tea Tongs on eBay and noting the condition of the offerings.

There are two notable trends:-

Firstly, there have been an increasing number of pairs offered for sale on eBay.

Secondly, the number of pairs offered with obvious repairs has increased progressively.

In 2005, 128 pairs of Tea Tongs were sold on eBay – of these some 21.8% were seen to have obvious repairs.

In 2006, 147pairs of Tea Tongs were sold on eBay – of these pairs only 9.5% were seen to have repairs.

In 2007, 129 pairs were sold of which 21.7% had obvious repairs.

In 2008, 182 pairs were sold of which 37.4% had obvious repairs.

In 2009, 149 pairs were sold of which 28.2% had obvious repairs.

In 2010, 122 pairs were sold of which 34.4% had obvious repairs

In 2011, 140 pairs were sold of which 31.4% had obvious repairs

So, clearly, the presentation of substandard examples has now reached epidemic proportions!

On average over these seven years 26.34% of pairs of Tea Tongs offered had obvious repairs.

What might be the reason for these trends?

Up to the advent of eBay, pairs were offered by silver dealers at their premises, at Antique Fairs and by personal recommendation to known collectors.
Since eBay made it possible to advertise such goods to a much wider public, the smaller dealers have been able to sell them on more easily and, as this method of selling has been seen to become more successful, more pairs have been on offer.

In my view, as I stated in my book, there must, inevitably, be a finite number of pairs of Tea Tongs extant. My best guess in the book was between three and four thousand; since I have been collecting information on Tea Tongs – a period of some ten or more years now - I have recorded a total of 2951 individual pairs.
Perhaps my estimate was overly generous, but I sincerely believe that the supply of available pairs is now significantly diminishing.

As the supply of pristine to fine pairs has dried up, the offering of pairs in average to substandard condition has increased and will, inevitably, continue to increase until the time arrives when the supply has run out completely as examples remain sequestered in the collections of the true enthusiasts.

Prices on eBay have remained steady over these years simply because the quality of the offerings has diminished. The acquisition of pairs in what is sometimes a parlous state is acceptable for the rarest of styles or makers or, indeed, to enable someone to start a collection at a reasonable cost but, as with most things in life, quality is the key to a first class collection and to ongoing investment potential.

Let me reassure keen collectors of fine Tea Tongs – the examples in the Pristine to Fine range of condition will continue to retain their value as an increasing investment.
Prices for these have remained, and will continue to remain, stable over this time.

The simple fact that the numbers are finite ensures that they will remain an increasingly rare commodity – replacements will become more and more difficult to source. This will ensure that the market will continue to flourish in the future.
So take heart, fellow collectors and if you see any fine pairs on offer snap them up, for the opportunities to do so are strictly limited!

At a recent Silver Sale at Woolley and Wallis some exceptional prices were realised for Tea Tongs.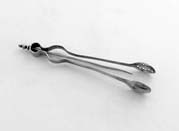 The most rare example of andiron type Tea Tongs - that complete with the pricker that is so often missing - and marked for Pierre Harache in Britannia Standard silver realised a price, including commission, of
over £1900.
This example is one of only three examples that I have recorded in this complete state and reflects the true value of these eighteenth century delights.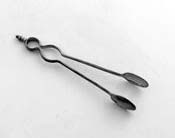 Other reassuringly strong prices were the £840 realised for another pair of Britannia Standard andiron Tea Tongs marked for John Lefebure


And yet another pair of fine andiron type Tea Tongs marked for Peter Farettes realised £660.


A superb heavy pair of early Tea Tongs marked for Joseph Healey realised over £500 in total.


And, finally, a nice early example of Tea Tongs marked for William Allen and dating to circa 1725 realised a final price of over £500.

It seems that, at last, people are realising that these wonderful artefacts are rare and have been undervalued for far too long.