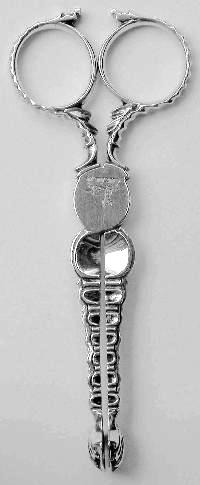 Up until the publication of this book, these lovely artefacts were always called "Sugar Nips" by dealers and collectors, alike.

The research undertaken for the production of the book has definitively proved that, at the time of their usage, they were almost universally known as Tea Tongs, and NEVER known as sugar nips.

The evidence for this is detailed at length in the book, but definitive supplementary evidence is to be found in the research conducted by Dr. Helen Clifford into the Garrard Ledgers listing everyday transactions by the firm of Wakelin and Taylor and in the Proceedings of The Old Bailey website.

Dr Clifford's perceptive research shows unequivocally that the term 'Tea Tongs' was in current usage as late as 1770 and that it is likely that this name continued to be used even after the change over from the scissor type tongs to the bow type tongs occurred.

From the Old Bailey records one sees that three hundred and fifty six cases of people being tried for theft or grand larceny are listed therein over the years 1708to 1792 where, included in their plunderings are "Silver Tea Tongs".

It is interesting to see the frequent mention of goldsmiths who are known to have made Tea Tongs in these records.

The various punishments meted out for these misdemeanours range from imprisonment and/or a fine through branding, transportation to the ultimate penalty - death.

Clearly the risk/reward odds that thieves accepted in those days were considerably more significant, and more appropriate, than that of their modern day counterparts!

It would be nice to think that they could return to their original and more sophisticated name in the future and that the name could, once again, be in common usage.